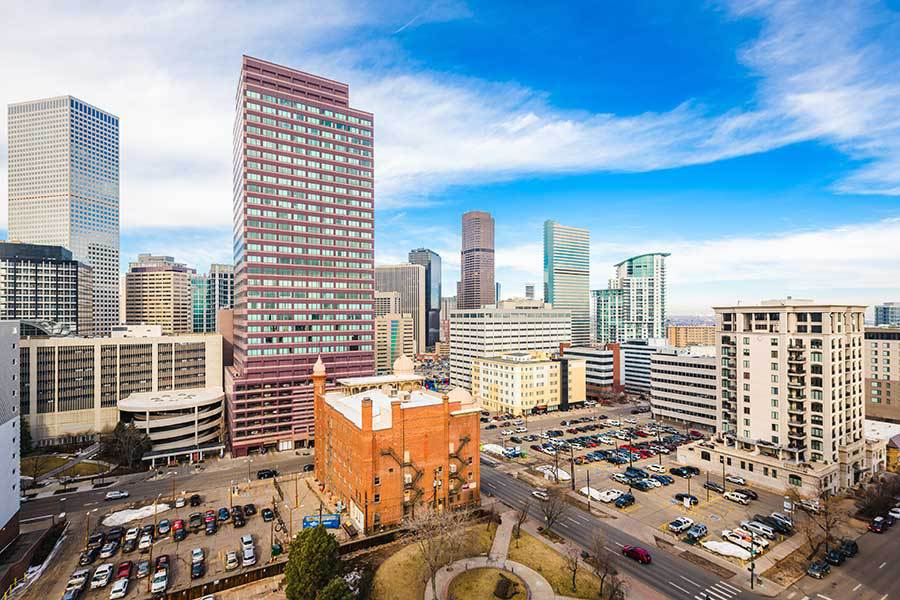 Denver, Colorado, is home to many Fortune 500 companies, including DaVita, DCP Midstream, and Western Union. Furthermore, with the Denver Botanic Gardens, the Red Rocks Park and Amphitheatre, and the Denver Art Museum nearby, the city offers limitless entertainment for all ages and social groups. Do you own or operate a business in the Denver area yet have not found a business insurance policy that includes the right coverages? Are you wondering what types of business insurance Denver, CO requires? Below, we discuss the minimum coverage requirements for owning or operating a business in Denver, CO.
Business Insurance Denver, CO: 5 Minimum Requirements
Different states require businesses to carry different levels of coverage. Whether you are in Colorado Springs or Denver, the state requires almost all public and private businesses to have the following coverages: property, liability, workers' compensation, commercial automobile (when applicable), and cyber coverage.
Property Coverage
Commercial property coverage protects your business structure. However, although commercial property insurance covers some types of water damage, flood insurance is designed to cover damage due to flooding from either natural or man-made causes. Therefore, it is a separate policy that requires a separate purchase from the standard commercial insurance.
Liability Insurance Coverage
Liability insurance protects your business assets and covers costs that come up if someone is hurt in your business. It also may cover injuries and damages caused by employees while on the job.
Workers' Compensation Coverage
Workers Compensation Insurance coverage helps cover your employees in the event of an accident and injury. It provides medical expenses, lost wages, and rehabilitation costs to people who became injured or ill at work. Additionally, workers' compensation also pays death benefits to families of employees who have passed away while on the job or because of the job.
Workers' compensation can help if:
Your employee trips over a box in the office, resulting in a visit to the emergency room. Workers' compensation can help cover his medical costs.
A cook spills boiling water in the kitchen and suffers severe burns. Workers' compensation can help cover her treatment costs. It can also help cover any ongoing care she may need to help her recover.
Your office worker develops carpal tunnel syndrome from bad ergonomic work habits. Workers' compensation can help cover their medical costs to recover from a repetitive stress injury.
Commercial Auto Coverage
It is paramount that your business secures auto insurance for any commercial vehicles owned, leased, or even rented. This coverage is also required if your employees drive both company-owned vehicles and personal vehicles for business reasons. Like other states, the state of Colorado requires that you always carry minimum liability insurance.
To drive legally in the state of Colorado, you must also always carry a minimum of $15,000 worth of property damage coverage. Additionally, you need to secure bodily injury coverage of at least $50,000 per incident and $25,000 per person.
Commercial auto insurance can help if your employee:
Hits a pedestrian while driving during a business trip, and the pedestrian needs medical treatment. Commercial auto insurance can help pay their medical bills.
Swerves off the road and hits a building while running a business errand. Commercial auto insurance can help cover the property damage.
Hits and totals a car while traveling on business. Commercial auto insurance can help cover claims alleging property damage.
Cyber Insurance
Cyber insurance is often considered a "must-have." Doug Compton warns that "in today's world, it is important to look at cyber insurance" regardless of the current size of your business. Many states, including Colorado, have enacted strict laws on how your business is required to protect others' information.
Hackers are not the only way cybercrime can happen. Ex-employees can steal and distribute company data. Current employees can be tricked into breaking procedure or doing non-work-related tasks at the office. It can also be as simple as misplacing a flash drive or leaving your laptop in the booth at a restaurant.
Secure the Best Business Insurance Denver, CO Has to Offer with Centennial State Insurance Agency
If you are looking for the right coverage while owning and operating a business in Denver, CO, or located in the Denver area, our experts at Centennial State Insurance Agency are ready to help! As Colorado insurance specialists, we understand what is takes to properly insure businesses in the centennial state to make sure your home is rebuilt, and you are properly taken care of.
According to insurance agent Savannah Martin at Centennial State Insurance Agency:
"We understand the unique needs of those located in [Denver] and work with insurance companies to understand this as well. We are able to help you with your home, auto, boat, motorcycle, RV, business, or life insurance needs. We pride ourselves in working with our clients and educating them on their insurance needs while providing excellent customer service."
Contact us to compare quotes and properly insure your home, property, and automobile today!