We're the Golf Course Insurance Experts in Denver, CO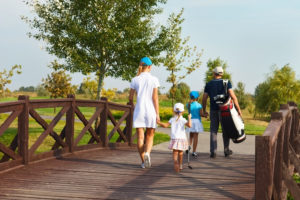 Do you own a pro-shop, golf course, or other country club facility and looking for insurance? Centennial State Insurance Agency has got you covered.
When most people think of a golf course, they think of relaxing fun, experienced in some of nature's most beautiful landscapes. Unfortunately, like any other business, golf courses are susceptible to some very large insurance claims. With acres of manicured grounds, club houses, restaurants, and pools all located on a property that can host large scale events, country clubs end up with similar maintenance needs as a small community! Such a large space can unfortunately be exposed to many different incidents such as injuries, theft, and natural disasters. With all of this to think about, you don't want to be caught off guard!
This is why it's critical to have a robust, and flexible golf of country club insurance policy for your golf course or facility. Just like any other business, you do not want to skip out on coverage in the event of an emergency. Insurance is an essential component to the success of your golf course. For instance, if you are looking to get a business loan or other forms of financing, most times the bank or investor will require you to purchase insurance so you can continue to make payments even in the event of a disaster, or to protect the investment.
Country clubs come in all different sizes and include different amenities. To ensure stability long term, invest in insurance for your golf course. We have access to a wide range of comprehensive golf course insurance products, so no matter how big or small your country club, or golf operation is, we have the products and expertise to help protect your business.
We know a lot is invested into the operation and upkeep of a golf course or country club, and we want to help you protect that! Call our office today to speak with one of our commercial insurance experts and we'll be sure to take great care of you and your golf course.
How To Get started On Your Quote with Centennial State Insurance Agency
To get started on your quote, call our office or click over to our quotes page. We provide fast turnaround, proactive service whenever you need, and a wide range of carriers to ensure great pricing. Either way we'll make the process simple!