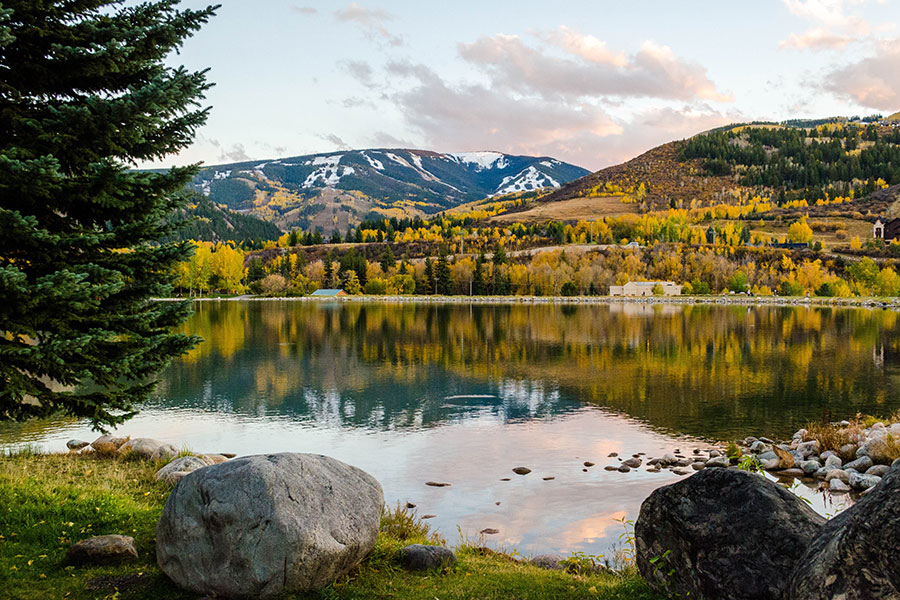 Home to the Beaver Creek Resort, the Walking Mountains Science Center, Avon Whitewater Park, and Nottingham Lake, the city of Avon, CO promises adventure and opportunity, surrounded by nature. This town offers countless activities to its residents and guests year-round. However, it is important that homeowners and business owners alike secure proper wildfire insurance for their property and assets.
Below, we explore how wildfire insurance is imperative to those living near the mountains, and how you can prepare for wildfires in Avon, CO.
Mountain Insurance and Wildfire Insurance
Enjoying the mountainous views of Avon, CO invokes breathtaking forestry, lakes, and a snow-capped skyline. However, while soaking in the nature around you, it may be easy to forget the danger that living near the mountains can bring.
In unanticipated events, such as wildfire, it is comforting to know that you and your family or business will be properly taken care of when covered under mountain insurance. Below, we explore how to prepare for wildfires in Avon, CO.
How to Prepare for Wildfires in Avon, CO
There are multiple ways in which you can best prepare for wildfires. From clearing excessive brush on your property to updating your mountain insurance in Avon, CO, we discuss three helpful ways to prepare your home for wildfire season.
Clear Excessive Brush and Move Fuel Sources
It is recommended that you clear away any brush that is within 30 feet of your home. Therefore, rake pine needles, keep grass and weeds cut short to lower their fuel potential, remove any dead brush from under decks, and close any holes on your deck or stairs that would allow dead brush to get under decks.
Additionally, move any other fuel sources, such as gas cans and propane tanks, away from the home. If you have a wood pile, make sure the pile is stored a safe distance from your home. Keep your gutters, chimney, and roof clear of needles and leaves.
Help Make Your Home Wildfire Resistant
Did you know that there are steps you can take to make your home more fire resistant? Utilizing metal, clay, or a non-combustible roofing material lowers your risk of the home catching fire from wind-blown embers or crowning tree fires. You can also purchase a less combustible siding material like brick, masonry, stone, or hardboard.
Additionally, when the time comes for you to replace your deck, consider installing trek or composite decking material. Furthermore, upgrade your windows to double or triple pane, and limit the number of windows and size of the windows that open to your largest area of vegetation.
Update Your Policy with Wildfire Insurance Coverage
Before wildfire season kicks in, contact your insurance agent to discuss your individual risks and to see if you are adequately insured. It is important to note that once there is an active wildfire, insurance temporarily freezes, meaning that you cannot amend or issue an insurance policy until the fire is over.
Update Your Dwelling Coverage
It is crucial that you discuss your dwelling value with your insurance provider. Make sure that your agent knows about any upgrades you recently made to the home.
Have you added an addition or renovated the kitchen?
Did you replace the roof or siding on the home?
Make sure your insurance policy reflects these changes and that your dwelling coverage will adequately replace the current condition of the home. Most insurance agents will use a replacement cost guide to input the information about your home and get an estimate of the cost to rebuild.
Detached Structures
Confirm that you have enough coverage for detached structures, including sheds, barns, or garages. Most policies have some coverage for detached structures built into the policy, but it is important to ensure that you have enough.
With today's technology it is a great idea to use your smart phone to take photos or videos of your personal property. Walk around your house, shed, and garage. Document what is on your shelves, dressers, safes, drawers, closets, and jewelry boxes. This not only helps prove the type of item you had, but will also help you remember what you had in the junk drawer.
Valuables
Most insurance companies have a built-in limit for jewelry, fine arts, guns, and collectibles. Consider the value of these items, talk to your agent about the built-in limits, and inquire if scheduling these items would benefit you. When you schedule these items, they are covered for the appraised value.
Special Motorized Vehicles
Many people are unaware that motorized vehicles are not covered on a homeowners policy. If you have a classic car, motorcycle, ATV, snowmobile, trailer, or motorized boat in your garage or barn, they will not be covered by the homeowners policy. Make sure to cover them under their own policy with at least comprehensive coverage.
Secure Your Mountain Insurance in Avon, CO with Centennial State Insurance Agency
If you are looking for the right coverage while living near the mountains in Avon, CO, our experts at Centennial State Insurance Agency are ready to help! As mountain specialists, we understand what is takes to insure homes properly in the mountains to make sure your home is rebuilt, and you are properly taken care of.
According to insurance agent Savannah Martin at Centennial State Insurance Agency:
"We understand the unique needs of those located in wildfire areas and work with insurance companies to understand this as well. We are able to help you with your home, auto, boat, motorcycle, RV, business, or life insurance needs. We pride ourselves in working with our clients and educating them on their insurance needs while providing excellent customer service."