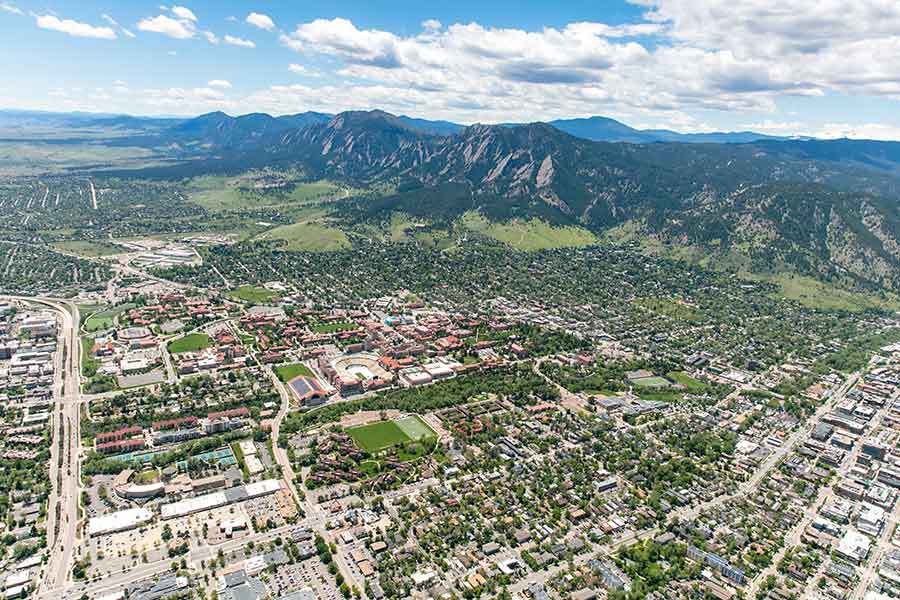 Boulder, Colorado is the perfect place to start a business, especially for industries including aerospace, bioscience, cleantech, IT/software, natural products, and outdoor recreation. Furthermore, with the Rocky Mountain National Park, Downtown Boulder, Pearl Street Mall, Boulder Falls, and the University of Colorado nearby, the city offers limitless entertainment for all ages and social groups. Are you starting a business in the Boulder area, yet need to ensure you have everything in place? Below, we explore business insurance in Boulder, CO, and business must-haves to have in place before opening or taking ownership of a business in Boulder.
Top 5 Business Must-Haves for Businesses in Boulder, CO
#1. Secure Adequate Business Insurance
One reason to get commercial insurance for your Boulder, CO business is to cover and protect your business and assets while also giving you liability protection. A small business owner in Colorado is always going to take on some liability risk. To ensure that you can mitigate this risk, promptly securing commercial insurance coverage should be a priority.
However, insurance is not necessarily optional. You also will need to fulfill the commercial insurance requirement depending on your business situation.
It is very common for business owners to take out loans or equity from investors. In these situations, you are obligated to fulfill specific commercial insurance requirements to remain compliant.
#2. Create A Proper Website and Develop your SEO Strategy
Most marketers know the benefits of a great website, but what about those new to the game? Essential for attracting attention from prospective customers on search engines, answering questions, providing information, and offering a way to purchase products, it's hard – nearly impossible – to succeed in business today without a website.
However, there is a difference between having a website and having a great website. In order to reap the benefits of SEO and your marketing strategy, websites need to be modern, fast, and up-to-date. Without it, it's hard to create a comprehensive marketing and SEO strategy that would successfully attract new business.
#3. Employ Multi-Faceted Payment Platforms
Whether your business is e-commerce or brick-and-mortar, the success of your company is contingent on transactions. Additionally, there are countless payment methods available to consumers.
As a result, try to employ multi-faceted payment platforms like Square, Shopify, or PayPal Here that accept a wide range of payment methods such as credit and debit cards, Apple Pay, Google Pay, and Venmo.
#4. Implement Efficient Bookkeeping and Accounting Software
Bookkeeping is designed to provide transparent financial reports for interpretation and action. Additionally, data analysis also reveals areas of opportunity for business expansion or optimization.
Choosing a bookkeeping and accounting software can be difficult; however, there are key features to look for. Once you find a comprehensive system, you can efficiently manage all financial accounts, including payroll, inventory management, invoicing, and reporting.
#5. Integrate Security Systems and Safety Measures
Workplace safety should be just as vital to a business as increasing profit margins, client retention, and employee benefits. In tandem with the current threat of a global pandemic, workplace health and safety procedures are ever-increasing in importance for both employees' and employers' well-being. Without it, no one would feel comfortable in the workplace and would be ill-equipped to navigate a real emergency.
In addition to workplace safety, you must also consider the security of your business elsewhere. Cybercrime is the fastest growing crime in the United States, and 60% of all cyber-attacks are perpetrated against small businesses.
Small businesses who have been hit often do not have the proper insurance coverage, and a high percentage end up closing their doors after an attack. Many owners don't fully understand what these attacks are, or the costs associated with them. Therefore, any business, both small and enterprise, must also have cyber insurance coverage.
Business Insurance Boulder, CO with Centennial State Insurance Agency
If you are looking for the right coverage while starting or taking the ownership of a business in Boulder, CO, or located in the Boulder area, our experts at Centennial State Insurance Agency are ready to help! As Colorado insurance specialists, we understand what it takes to properly insure businesses in the centennial state to make sure your home is rebuilt and you are properly taken care of.
According to insurance agent Savannah Martin at Centennial State Insurance Agency:
"We understand the unique needs of those located in [Boulder] and work with insurance companies to understand this as well. We are able to help you with your home, auto, boat, motorcycle, RV, business, or life insurance needs. We pride ourselves in working with our clients and educating them on their insurance needs while providing excellent customer service."
Contact us to compare quotes and properly insure your home, property, business, and automobile today!